Whilst many people are spending more time at home, they are also spending money to improve their living space.
Many people will appoint different tradesman to fulfil different tasks. This can affect various elements of the project management including time and money.
We have put together a list of reasons as to why using a contractor rather than a sole trader may provide you with a better service.
Fully insured:
Although most tradesman will have a certain amount of public liability insurance, contractors are generally insured for much larger sums. Bwp Plastering Services Ltd hold public liability insurance and indemnity insurance for up to £10m. This gives you security and peace of mind knowing that your project is in safe hands.
Tailored payment options:
BWP Plastering Services Ltd offer a range of payment options including credit card, BACS and payment instalment options. This allows the client to have the option of spreading the cost over a period of time.
Tailored quotations:
As every job is individual, BWP Plastering services Ltd tailor each quote to the client's requirements. We will always offer a range of options to give the customer the most appropriate specification for their project, taking into consideration price, quality and design features. As a contractor, we have a large supply chain in various materials and are often able to source and provide materials at a lower cost.
Teams:
As a contractor, Bwp Plastering Services Ltd has the manpower to provide a team to complete a variety of projects and sizes. We have reliable subcontractors across the Midlands and South Yorkshire that work alongside us who are vetted, and quality assessed to ensure a consistent, high quality of workmanship.
Availability:
As BWP Plastering Services Ltd have a large supply chain across the Midlands and South Yorkshire, this allows to take on a range of projects at one time without compromising our high standards of work.
Skillset: 
As BWP Plastering Services Ltd have a vast team, this provides us with a vast skillset to suit a range of different services. Having an array of specialists, allows us to provide the customer with the relevant tradesman for your project and to have the ability to provide bespoke services.
For more information about our products and services click here >>
Our clients often ask us how they can create a sense of space in their home. Many of us have spent more time than ever in our homes during recent times and are longing for more space!
We have put together a list of possible space saving (or adding!) solutions. Simple changes can be made in your home using dry-lining and plastering solutions. BWP Plastering Services Ltd can provide design input and produce solutions to help bring your vision to life.
Knocking through or removing internal walls:
This can help to create a range of different living spaces such as an open plan kitchen/dining space or a living/dining space subject to structural elements. This can be a great way of expanding room size and creating a natural sense of space and light without the need for extension! Always seek the advice of a structural engineer before removing walls.
Adding an en-suite:
An en-suite can not only add value to your property, but it also gives you a practical solution particularly in busy family households. An en-suite can be easily created using partition walls, dry-lining and plastering to create a high quality finish. Aesthetic details such as light boxes can provide additional space as well as creating a luxurious design.
Creating walk in wardrobes:
Free standing furniture is often bulky and space consuming. Adding a walk in wardrobe by creating a partition wall can save space as well as blending in with the spatial features. Again, additional lighting or shelving and boxing can be added to create storage and contribute to the design aesthetic.
Combine a box room and master bedroom to create a master suite:
Often spare bedrooms become a dumping ground or lose a sense of purpose due to not being big enough to use as a bedroom. A great way of utilizing space is to knock through to the master bedroom, creating a large master suite. This could include a walk in wardrobe or en suite (see above) and give you a fabulous, spacious haven.
Create a sense of light and height with ceiling details:
We can't raise ceilings but we can create a sense of height and light by forming drop-down bulkheads around the circumference of the ceiling. If you are looking to add a high end modern design feature to your space, additional lighting elements can be added such as LED strips or spotlights. This can transform the look and feel of a space and give a tired, unloved space a serious design update.
Small details that can make a big difference:
Sick of seeing cables and wires in your living space? Creating a TV encasement can hide a multitude of mess! The encasement could simply be formed as a border around the bracket or incorporate the full height of the room.  Either way, This will make the TV flush to the wall and get rid of any bulky and unsightly wires and switches.
For more information about our products and services, click here >>
Struggling to decide which rendering solution to choose?
All rendering systems have different variables and benefits including price, upkeep and environmental benefits.
Bwp Plastering services Ltd have put together a guide outlining the different types of render for domestic and commercial projects. We have looked at the advantages and disadvantages of each to help you to choose the most suitable option for your requirements.
Sand & cement render
Sand and cement is a traditional method of rendering that provides a smooth finish.
Advantages:
Usually the cheapest option, sand and cement is cost efficient due to the materials required. It can also be patched if needed as some renders cannot. Different effects can be created such as pebbledash and Tyrolean.
Disadvantages:
Sand and cement is not necessarily the most durable option and there will be an additional cost in paint throughout its lifetime.
Suitable for:
Traditional properties and small extensions
Silicone based rendering systems
Silicone rendering systems are a through coloured flat, water resistant rendering system.
Advantages:
Silicone based rendering systems add UV properties to a building. There is no need for painting, and they provide a smooth, easy to clean surface.  Silicone based systems come in a range of colours and can be applied on an array of surfaces. As silicone-based systems are waterproof, this render type can withstand UV rays and other environmental damage.
Disadvantages:
This is a more expensive option due to product cost. It also involves 4 different stages which mean it is labour intense and therefore not the quickest option. Silicone based systems only come in one smooth finish.
Suitable for:
New buildings, residential projects, commercial and recreational facilities and block work.
Monocouche render
Monocouche render is a one coat through coloured system, providing an array of finishes.
Advantages:
As monocouche is a one coat system, it is quicker to apply than many other systems. This system is available in a variety of colours, again, saving on additional paint costs and can adapt to both modern and traditional style properties. It adheres to most surfaces so is suitable for a variety of projects.
Disadvantages:
Although monocouche systems are weather resistant, they have less water-resistant properties than silicone-based products. Monocouche also absorbs dirt and grime more easily so requires more maintenance. This system cannot be patched.
Suitable for:
Most traditional masonry brick, block work and concrete
EWI Rendering System
EWI is a thermal insulated, protective and decorative exterior.
Advantages:
EWI rendering systems provide a significant upgrade in UV value, which means the property will be cooler in the summer and warmer in the winter. This system also means there is a significant difference to central heating costs. There is no paint required as it can be finished with an array of different rendering solutions such as monocouche or silicone-based products. This system can be an alternative solution to internal thermal boarding which saves on floor space. The system upgrades acoustic and fire-resistant properties and reduces carbon footprint.
Disadvantages:
EWI is the most expensive system in terms of the initial cost and is a more specialised service. It may have an adverse effect on the aesthetics of the building.
Suitable for:
All types of building
Need more help?
For more information on our rendering services click here or call us on 0114 2016 002
During these unprecedented times, I know many people are struggling to understand what is classed as essential work and does this include construction services?
The government have advised construction companies to continue to work if they can do so following the governments guidelines here. The CLC have also issued further, more detailed guidelines that can be viewed here.
Whilst Bwp Plastering Services Ltd are not currently operating on domestic projects, we are continuing, where possible to work on commercial projects. Several commercial buildings have already been constructed or redeveloped as temporary, emergency hospital's over the last few weeks. This would not be possible without the construction industry contributing their services to create these makeshift hospitals. Buildings such as hotels are also being used as temporary accommodation to allow vulnerable people to maintain social distancing guidelines and more unoccupied buildings may be required in the near future.
Of course it is vital that when working, we follow the recommended guidelines issued by the government as well as the CLC. These include;
Staggered work times to limit the amount of individuals on site at any time
Individual work and break areas provided to ensure social distancing measures are adhered to
Individual's are provided with personal protective equipment including gloves, masks and hand sanitiser
Work areas are cleaned at the end of each day
Individuals travel to and from work alone where possible.
People are asked to bring their own food so they do not need to leave the premises
We are conscious that things are changing on a frequent basis, however, whilst we are able to continue to provide essential services, whilst adhering to the guidelines provided in order to work as safely as possible, Bwp Plastering Services Ltd will continue to do so until further notice.
During these unprecedented times, we are aware that many people will be feeling significant financial pressures.
We have put together a list of money saving solutions when considering your plastering, rendering, drylining and sfs options for both commercial and domestic projects.
Plastering:
Considering taking your property back to the original brick work and starting again?
If the walls are safe and sound with no cracks, you may be able to save a considerable amount of money by simply having the walls treated with a bonding solution and re-skimmed.
Rendering:
Thinking about which render type to use?
All rendering systems have different variables and benefits.
There are significant variations in price, sand and cement usually being the cheapest option but not necessarily the most durable and don't forget, there will be an additional cost in paint throughout its lifetime.
Silicone based rendering systems add UV properties to the building. As this is a through coloured render, there is no need for painting whilst giving the same finish as a flat, sand and cement render.
Monocouche render is a one coat system, making it quicker to apply than a silicone system, saving money on labour costs. This provides a pitted, textured finish that is available in a variety of colours, again, saving on additional paint costs.
EWI rendering system provides a significant upgrade in UV value, which means there will be a significant saving in central heating bills! Again, there is no paint required as it is finished in either a silicone or monocouche render system.
Drylining:
Don't know whether to use wood or steel for partition walls?
There are many benefits to using steel rather than wood for partition walls and ceilings as we have previously explored. The money saving is down to both labour costs and the material costs as steel is cheaper and quicker to assemble. It also has ongoing money saving benefits due to the longevity as it is less prone to warping, pests and mould.
SFS:
Considering using SFS rather than block work for your project?
SFS is considerably cheaper, faster and more efficient than using block work. This will save money due to the shorter timeframe in which it can be fitted, saving on labour costs. It is not weather dependent, saving potential waiting costs on your project if block work cannot be installed.
At Bwp Ltd, we always favour using steel rather than wood for building external and partition walls. There are benefits to using steel on both domestic and commercial projects as outlined below.
Steel is faster to install:
As steel is a lighter material than wood, it is less time consuming in terms of labour. Steel is also easier to assemble as it is quicker to cut to the required length and slots together much more easily. This can potentially make significant cuts to labour costs.
Steel is fire resistant:
Steel has a much higher tolerance to fire, making it a safer option on both domestic and commercial projects and is often a requirement of insurance companies due to its fire rating and longevity.
Steel has less chance of movement:
When using wood to build external or partition walls, there are various reasons that mean, over time, there is likely to be some movement. These includes but are not limited to; warping (which may be caused by mould from condensation or a decaying of the wood itself) and corrosion (caused by wood worm, insects or pests.)
Movement of external or partition walls may lead to costly issues such as shrinkage or cracking so the use of steel in the initial stages helps to illuminate such future problems and again, potential additional costs.
Steel is a sustainable product:
Steel is the most sustainable construction material available. In addition to its recyclable properties, the processes of producing, transporting and recycling steel, also use lower energy consumption in comparison to many other manufactured materials.
Bwp Ltd are committed to providing sustainable solutions on all of our projects and use steel on projects of any scale to ensure a quality finish that offers optimum longevity.
BWP Plastering Services Ltd now use Maxi-Tec by Protektor UK on all our projects, to provide a more environmentally friendly product that is lightweight and time efficient in the installation and M&E processes.
Maxi-Tec offers the benefit of removable sections to allow for wires and pipes to be fed through the section. It also has acoustic benefits due to the perforated design.
It has already been awarded a European Product Declaration for the efficiency of its manufacture, use and 'end-of-life' recyclability.
Maxi-Tec profiles are a complete, certified and safe profile system. The introduction of Maxi-Tec profiles into the market is the first change in the profiles market in 50 years.
BWP Plastering Services Ltd are the only East Midlands based contractors to use Maxi-Tec on our projects. We were proud to support Protektor UK at the London Construction awards this year, for their nomination for the 'Innovation Award' for their Maxi-Tec product.
Plasterboards come in various different colours, thickness and sizes. The different colours identify job specific requirements. Below is a guide to choose the product that best serves your project.
Standard Plasterboard
Colour: White
Size 1200mm x 2400mm
Most commonly used on domestic projects or developments where there is no fire, acoustic, thermal, or moisture specification requirement.
Tip: It does have fire qualities! For example, if you only required 30 minutes fire break between ceilings or walls, then two standard plasterboards boards will give you this standard, and it is cost effective.
It can also be used on all brick or block work where again, there is no specific requirements, whether that be a dot and dab system or a gyp lining system.
Fire Boards
Colour: Pink
Used throughout the construction industry and vital if there are any specific fire-resistant requirements.
Fire board will give 30 minutes per board and are most commonly used on any project where more than 30 minutes is required.
Tip: When fixing fire boards to either walls or ceilings, it is good practice to seal any corner gaps with intermittent fire mastic. This will give complete fire protection and without, can be failed by building control.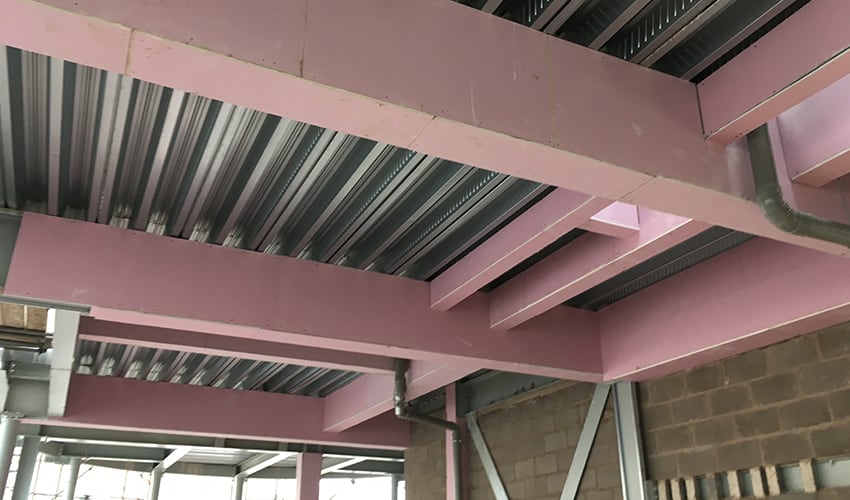 Sound Boards
Colour: Blue
This product is used to provide a superior acoustic performance. It is most commonly used in residential accommodation, and any project where a Db (decibel) value is required.
Tip: Sometimes you may require both fire and sound performance. Two 15mm Db board will provide the same fire performance as the fire board.
Moisture Boards
Colour: Green
Used in any areas which will be exposed to high levels of moisture such as bathrooms and kitchens.
Tip: If you are tiling the space completely, you can use standard plaster board, tape the joints and prime the walls. This can save you money depending on the size and spec.
Thermal Boards
Colour: White
This product comes with a standard 9.5mm plasterboard bonded to a Phenolic board attached to the back and serves the same purpose as using a thermal insulation in your cavity. It comes in many different thicknesses and is dependent on the U value required. The bigger the upgrade needed, the thicker the board. For example, if you are looking to upgrade an old property with no existing cavity, this product would be the one to use. A 63mm thermal board would give an upgrade U value of 0.22 which means it will make the space toastie!
Tip: Make sure the thermal board is phenolic and not polystyrene. To upgrade a space, our minimum recommendation would be 45mm with a maximum of 100mm, dependant on the wall type.
Before rushing out and buying your products always value engineer the space this could save you time and money!
Tip: Make sure the thermal board is phenolic and not polystyrene. To upgrade a space, our minimum recommendation would be 45mm to 100mm, dependant on the substrate.
Before rushing out and buying your products always value engineer the space this could save you time and money!
Over the years, BWP Plastering Services Ltd have worked on many different dry lining projects and used many different methods to carry out the job.
At BWP Ltd, we have found that the rip system works the most efficiently. For those that have never used a rip system, below is a guide to what the rip system entails and how we install the system.
The rip system is a method in which we fix the required boards around the circumference of the partitioned walls. We then fire mastic all joints around the top circumference of the room. After that, we are able to fit our metal frame ceiling. Once the ceiling is complete, we can then form any rooms to the underside of the ceiling. When this part of the process is finished, we can sign this off to the mechanical and electrical contractors to start their first fix. Once they are completed, we are able to dry line the entire room, ready to plaster.
Following extensive research into the benefits of the rip system in comparison to other methods, it out performs them by a staggering 30% production time. The reason for the rip system being significantly more efficient than any other method is that other systems take at least three visits to one room whereas this method takes one. This then allows all other contractors to complete their work and move out of the area more quickly.
The benefit to contractors or sub-contractors in an industry that is prone to back injuries is that this system is better for man handling as the rips are lighter than lifting full size boards to the top of the walls. When you are fitting sound boards that are over 40kg, this will certainly benefit the operative's wellbeing!
Like all good things, there are always disadvantages to a system and this one is no exception. Costing can be tricky as pricing will need to be based on a lineal metre rather than a square meterage and there is more board wastage. However, the time saved in labour charges, far outweighs the disadvantages described.
At BWP Ltd, we believe in this system and strive to implement it in all our projects.
If you are like me and find hair line cracks above doors frustrating, you will be pleased to hear that there is a way of minimising them.
At BWP Plastering Services Ltd, we receive regular enquiries from clients about their premises needing maintenance due to cracks above the doors. The good news is its easily rectified!
Whether you are a home owner, a landlord or a property developer, it is always important that you know how a job should be done. The simplest of tweaks can make a difference and prevent between large maintenance costs.
If a wall has been incorrectly boarded, over time, cracks will appear due to stress to the wall itself, incurring costs further down the line. At BWP Ltd, we believe in providing the best finish possible and always cut our boards central to the doorway in order to reduce stress points. In doing so, this will stop cracks above doors appearing and stop the client incurring further maintenance costs.
For more information about our dry lining services please click here >>